How Much Does a Hospital Bed Cost?
Summary of Hospital Bed Prices
Price Range = $865-$7,000
Average Cost = $4,000
Cheapest Price = $865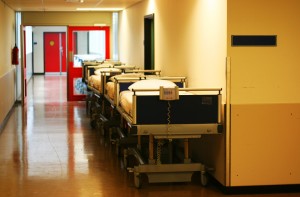 Why A Hospital Bed?
A hospital bed can provide extra comfort for a loved one that is on bed rest for an extended period of time. Normal beds do not adjust the way a hospital bed does and they are difficult to move. A hospital bed is a reliable solution for those who are required to stay in bed for medical reasons.
Cost Research & Comparison
Comparing the cost of different hospital beds can be an overwhelming process since there are numerous important factors to consider. However, hospital beds can be very basic and affordable. For example, a hospital bed from InvaCare Homecare can cost as little as $865. This is a basic mattress that is electric and adjustable.
High-tech beds can cost as much as $10,000. One example of a higher-end hospital bed is the Stryker GoBed II, which costs approximately $6,500. It comes with SmartDesign features, open architecture, retractable wheels and pump holders. Each feature is designed to make the bed more comfortable and easy for home-care professionals to use.
These two beds have a vastly different price range, but it's their features and comfort that require comparison. If you are going for something short term and basic without a lot of the bells and whistles, then a cheaper bed is a realistic option that may suit your needs just fine. If the bed is needed for long-term use or you need certain features, then a more expensive one may be beneficial. It might be a good idea to consult a doctor or nurse to find out if there are specific features the bed should have.
As with most products and technology, the more features a bed has, the more expensive it will be. Padding, quality of the mattress and the technology involved will also increase the total cost or price.
What To Consider When Comparing Hospital Bed Prices:
Is the bed electronic?
What features does the bed have?
Will the bed be comfortable for the long term?
Is it easy to assemble and disassemble in your home?
Does another website or location offer this bed at a lower price?
What health problems and/or medical needs are present?
Does this bed need to support medical-machine hookups?
The above questions are just a few of the questions you should ask yourself when purchasing a hospital bed. The reasons for needing a bed are obviously the most important. For example, if you need a hospital bed for swelling of the legs, then a simple bed with leg-lift capabilities is all you need.
Making an informed choice is important when purchasing a hospital bed. It doesn't have to break the bank, but it is an investment.